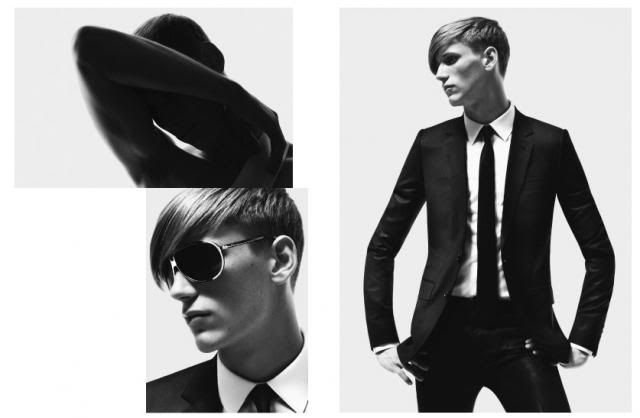 My wardrobe...sans the jacket

I know some of you can't wait to hear (or read) what happened to my interview. But before storytelling, I absolutely want to thank
Manju
,
Trish
and
Jessica
for giving me tips on my interview wardrobe. I followed your advice and put together a stylish but not too absurd ensemble: a basic white shirt (I didn't notice the shirt was a bit sheer until it was too late! I hope they didn't see too much of me), a classic black tie (because it was highly recommended), my favorite black skinny jeans (they aren't too rock 'n roll skinny), and--the best part--my gray wingtips! I have to say that I never felt so shabam my whole life. Plus, I stayed conservative with my color palette. No gigawatt orange this time.

Onwards to the story. Frankly, I was very stressed. Not only was I worried because I left home late, but there was traffic! I loathe L.A. traffic especially when I desperately need it to work with me. Fortunately, I live relatively close to the venue, 8th Street, and since downtown is always traffic this is a huge thank you to God!

I reached the location on time and ran swiftly to the office. But before the interview, the receptionist told me to jot down my personal info. Afterwards, she took a picture of me. That was weird especially when the info sheet labeled scholarship recipients as models. I don't know if this organization (a labor union) is trying to put some pretty face forward, but I'll do whatever they want me to do. I'll ride a horse and hula-hoop simultaneously if I had to.

Anyway, there was a panel of "judges" in the interview room. They were representatives from colleges and the union itself. All they wanted to hear was about my life, and how deserving I am of this scholarship. Also, they asked me questions of where I see myself in five years. My answer: in New York working for a marketing/advertising firm, or just be a journalist. In addition, they asked about my hobbies. I couldn't help but mention blogging which is a huge portion of my life (sounds like I don't have a life, huh?). And reading magazines like V, V Man, and Vogue (I forgot 10 Men!). I hope they see the connection:
blogging + magazines + my awesome wardrobe = J'adore la mode!

Or maybe they got the wrong impression that I'm some boring guy in a business major who doesn't have a life and simply wants to earn big bucks. That just sent shivers down my spine.

Right now, I have my fingers crossed. I'm praying that this is God's will. Also, I thank Him for giving me this opportunity. It's not everyday that I get a chance like this. Of all the hundred thousand entries sent, mine was chosen. What're the odds of that happening?