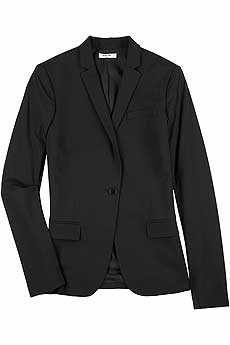 I know it's pretty darn late to wear wool (especially if you live in SoCal), but I assure you that it's never late to stock up for winter. A few weeks ago, I went out with my best friend, Abby. We went shopping to the last place I see myself shopping in--

GOODWILL

! But, hey, don't judge! You'll never know what you can find in thrift stores; after all, one person's "trash" is another's treasure. And treasure it was for me: I found a pair of awesome vintage blazers from

Calvin Klein

and

Giorgio Armani

. Talk about splurge! Well, not really since they only cost 99.5% off the retail price.
So to all of you who pay full price for your luxe items, think twice before swiping your card! I swear, you can find

great items

in vintage or thrift shops out there. Plus, you get the thrill of the hunt without the stigma in your bank statement.